Jesus Culture - Emerging Voices
ÜLISTUS
(2012-08-27)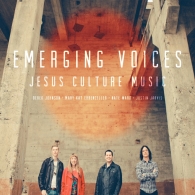 This brand new album draws together four new songwriters, partnered together with Jesus Culture for a highly impassioned and anointed release.

Justin Jarvis, Mary-Kat Ehrenzeller, Derek Johnson and Nathan Ward II reside in different areas of America, and each are worship leaders in their home church. Recorded live at BSSM (Bethel School of Supernatural Ministry), all songs on this album are brand new, each artist covering three or four songs on the album.

This album is something very different from Jesus Culture, and has the flavour of four diverse artists unified through the Jesus Culture movement and in God's love, grace and power.

CD hind €6.75 €13.50
Saadaval kohe/laos olemas

01 – Here We Are
02 – I Belong to You
03 – Mighty Fortress
04 – Let It Go
05 – Be My Love
06 – We Just Love You (Be My Love Reprise)
07 – Who Can Compare
08 – You Are My God
09 – Where You Are
10 – Glory Come Down
11 – I Won't Settle




Jesus Culture müügil olevad artiklid


» Love Has A Name CD (2017)
» Emerging Voices CD (2012)